How do I check my tickets at the new ticket desk?
Posted by The Team at Mindmatrix on 06 March 2018 08:25 PM



You can check your open tickets from My Area section in our new support desk portal.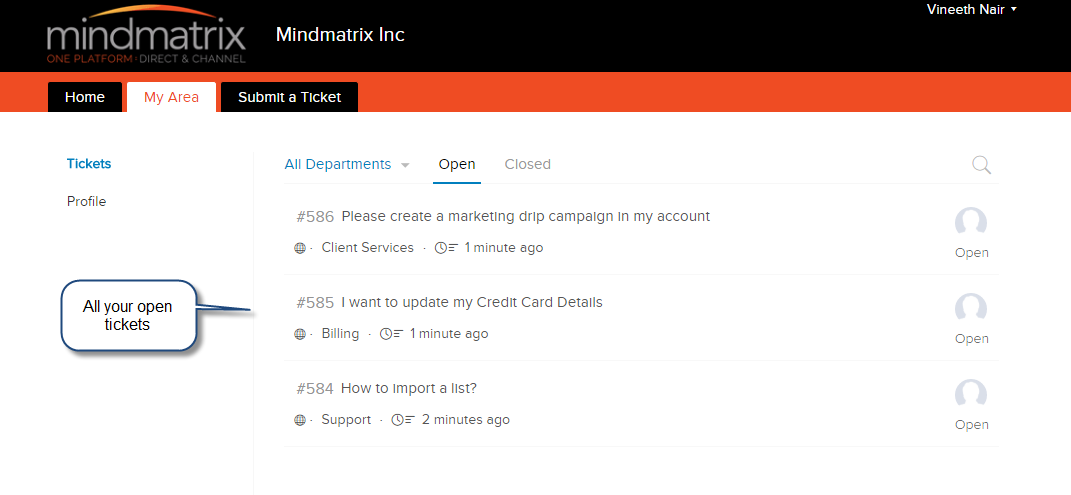 Click on top of the ticket to see the latest reply from our support executive, you can also reply or comment on the ticket from the portal itself and update the ticket status or close the ticket if your questions are answered by our support executive.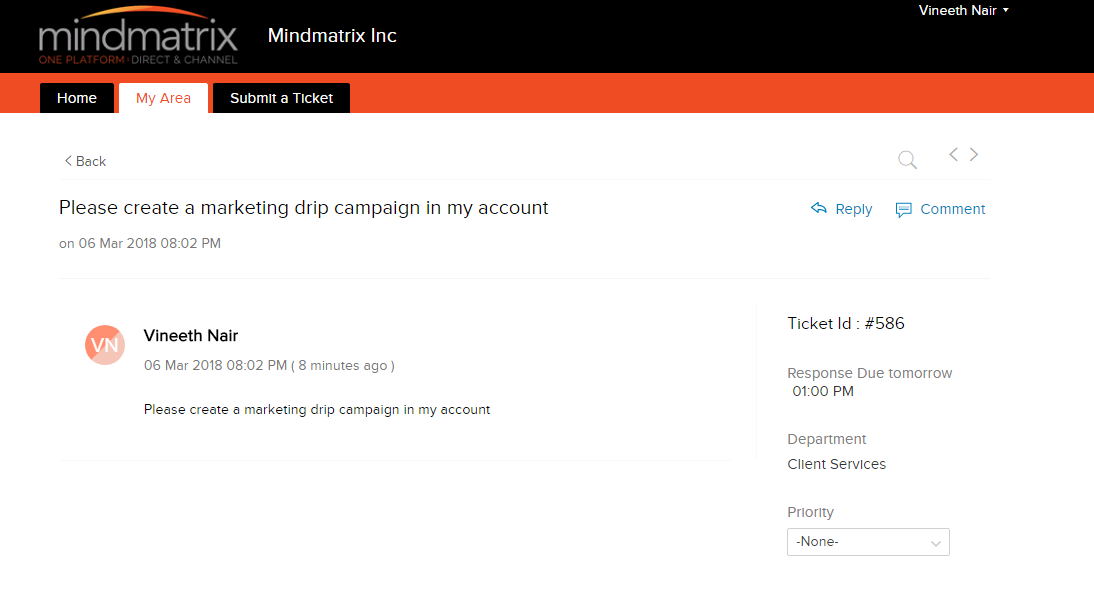 You can check all your closed tickets from the "Closed" folder


Related Articles

How do I sign up to new ticket desk?

Sign Up to new ticket desk? Posted by The Team at Mindmatrix on 06 March 2018 08:08 PM You can check the tickets you submit starting in March 2018 from our new support portal: https://helpdesk.mindmatrix.net/ To create a user account for you in our ...

How do I submit a new ticket using the form?

Posted by The Team at Mindmatrix on 06 March 2018 08:31 PM Users without accounts at the ticket desk will not be able to submit tickets. If any employees in your organization need to setup a ticket account, please direct them to ...

How to Get Started - Resources for new users

If you've recently joined your company's sales or marketing team, you're probably wondering where to begin. Here are some resources that can help you get started. Contact the support team at support@mindmatrix.net with any questions. Posted by The ...

What are the general turn around times for service requests at the support desk?

Turnaround Time Estimates: Below you'll find our general guidelines and policies for submitting custom work orders to Support using your Concierge Hours. Work orders can include drip campaigns, email templates, landing pages, etc. To learn how to ...

How should I submit a ticket for creating an email drip campaign?

Scroll to the end to the end of this article to copy the steps into a Word Document. Posted by The Team at Mindmatrix on 19 April 2018 05:49 PM Key items to confirm before setting up a drip campaign: What kind of asset is being created? Email ...