How do I create a trackable link?
Posted by The Team at Mindmatrix on 28 August 2015 10:14 AM
First to go to Manage, External Tracking, and then Links.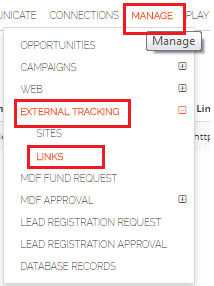 Click "Create" to create a new trackable link.
You can either choose to enter the URL that you would like to track or you can choose an item from AMP to track.
I selected that I wanted to track media, so I would need to choose the type of media that I wanted to track.
Choose the item you would like to track and click "Done".
If you use media, images, or documents in the software, the software will enter the URL for you and you would need to add a Display Name. If you would like other users in your account to be able to receive tracking information on the link, click "Public Company Link?". When you are finished. Click "Save".
This will bring up a trackable link for you to copy and paste for use. When you are finished, click "Ok".
Related Articles

How do I view a trackable link report?

Asset & External Website tracking Users may add a tracking code to their website. This tracking code allows reporting of both, anonymous and known visitors to the tracked website. Known visitors are all those contacts who have opened an email which ...

How to Add Trackable Links to the Social Media Posts in an Automation Campaign

Click to expand "Manage" and click on "Campaigns". Then click on "Social Drip", and then click on the drip that you want to edit. From here, select the post that you want to attach a tracking code to. From the post editor, click on the "Links" box. ...

How do I create landing page web templates?

In order to use a landing page, you need to publish the landing page template into "Output" mode. You can learn more about using landing pages in Output mode here: How do I use landing pages? 1. To create a landing page, you will need to utilize a ...

How to Create a Social Media Drip Campaign Template

Social Media Drip Campaigns are a series of social posts that can be run, scheduled, or stopped. These campaigns are designed as a triggered sequence of automated posts sent on a predefined schedule. [Learn more about creating one here: How to Run, ...

How do I create a web banner?

The web banner editor allows for Users to create web banners that can be used internally (on pages such as the Dashboard, internal playbooks & Welcome Page) and externally (landing pages, brochures, marketing). Interactive banners also lets users to ...