Importing

First, hover over "My Database" and then click "Import Contacts".

Note: this may be under a different part of your navigation bar depending on your settings and customization. Contact your Support team or Consultant for further assistance if you can't find the selection.

Click "Import" to import your contacts.


Next, you can choose which option you would like to use to import contacts, then click "Go".


If you chose to import a CSV or TXT file, you will now need to upload that document.


Click the upload button to find a file on your computer (you have the option to drag and drop or search your file browser). Once you have selected the correct file, click "Upload".

Verify that you have selected the newly uploaded file by noting the blue border and checkmark in the upper right-hand corner of the file. Then proceed by clicking "Next"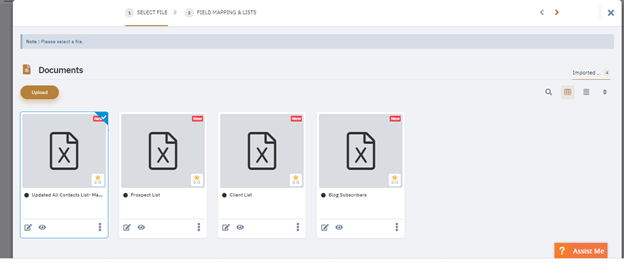 Field Mapping & Lists
You will now be taken the field mapping option screen.

This screen has multiple options: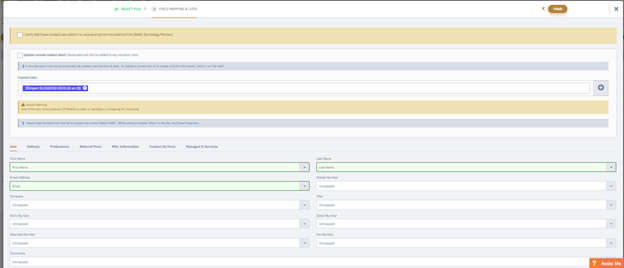 Verify that these contacts are opted in to receive email communications from you - Acknowledge that these contacts have opted in and that you have gotten them in a manner following CAN-SPAM and local laws for email marketing subscriptions. As with all marketing platforms, your contacts must be opted-in to receive your email communications. Talk to your Consultant if you need help on how to opt-in contacts. (How can I prepare contacts for CCPA or other privacy acts?)



Update Current Contact Data? – If selected, current contacts will be updated with the newly imported information, if the email address matches. If not selected, and an email address matches, this contact will not be imported.


Field mapping – Select the drop down under each field that needs to be mapped to a column heading from your imported file. (Example: First Name, Last Name, Email Address, etc)


Requirements
You will need to map your fields by selecting what field best matches the top row of any particular column on your CSV file

You must have either an email address or phone number in order to import the list (these are used in the system as the unique identifiers for each contact)

You must verify these contacts have opted-in to receive communication from your marketing team


By default, the software will add these contacts to a
Recipient List
named, "Import [Date] [Time]".
You can choose to use this created Recipient List, create a new Recipient List (also used to change the name of the Recipient List) or add your contacts to an existing Recipient List. To do this, Click on the "+" icon. Note, you can add contacts to more than one recipient list at a time.


Either select, "Create" to make a new list (then select the new list once done), or click to highlight the list you'd like to add Contacts to.

To remove the auto-generated recipient list, click on the "X" icon to remove it.


Once done, click, "Finish."


You can also use the list import feature to update multiple contacts at once for bulk changes. To do this, select the checkbox next to "Update current contact data?".


Keep in mind that if you have a CRM integration set up, this may either overwrite your CRM data, or be overwritten by your CRM data. To prevent this, either update in both places, or verify with your Consultant how your sync is set-up for the, 'source of truth' and syncing.