How can I share Contacts using a Smart List?

A Smart List is a fluid and dynamic list that is based on conditions or activity. If you'd like to share contacts based on certain conditions, you can use Smart Lists to set automatic sharing of certain contacts that match set conditions or activity mapped out in the Smart List.

Note: Sharing the smart list will only share the contacts with the other users and not the smart list itself. Users need to create a matching smart list of their own to view the list object within their account.
First, go to the Smart List area by selecting to "My Database," then "Contact Lists." You can either create a new Smart List, or click on an existing Smart List.


Note: Things may be under a different part of your navigation bar depending on your settings and customization. Contact your Support team or Consultant for further assistance if you can't find the selection noted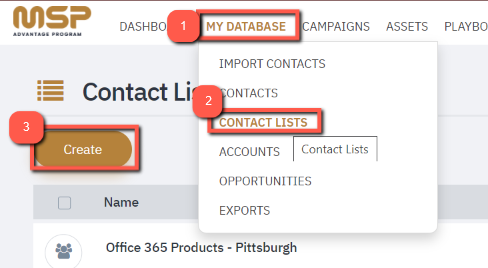 If you create a new Smart List, the third step will allow you to select which Users you'd like to share the contact. Click Share next to each User's name.


If you are using a pre-existing list, click on that list, and select the Views drop-down. This will bring up the Sharing option for you to click.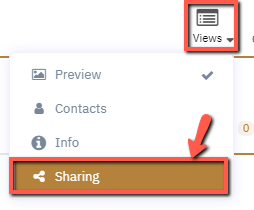 Under Sharing, click Share next to each User's name who you would like to have the ability to view and edit the contacts.

Make sure to click Save when done


Related Articles

How do I create a Smart List?

Smart Lists are the tools to dynamically segment your contacts based on their attributes or actions.You can also share all contacts within a smart list with other users -- as long as you have permission. Smart Lists are also used to receive ...

How do I create a Company Smart List?

When a Company Smart List is created, all users in a specific company will automatically have access to this list in their accounts. Note, only the list structure will be shared, not the contacts within the list. Company Smart Lists are meant to give ...

How do I make a list of contacts that filled out a form?

Posted by The Team at Mindmatrix on 13 August 2015 07:19 AM Click on Contacts > Lists > Smart List > Click on "Create". On the info page, name your smart list. Next, set up your filters(s). Notice that you can choose from an attribute (contact record ...

How can I create a "user" smart list?

Who would use this? User Smart Lists are great tools to dynamically segment users based on their attributes or actions.You can also use smart lists to send notifications to other users or to yourself. 1.Go Connections > Lists 2. Select User Smart ...

How do I share or unshare Contacts with Users or Groups?

Contacts can be shared between Users in several ways. You can manually share contacts using the below directions, or using Contact Lists. Learn more about sharing groups of contacts automatically by using Smart Lists here: How can I share Contacts ...